Looking for a Best Website Designing Company in Lucknow?
Graphix Studio! Having more than 18 years of experience designing websites for businesses of all sizes,  we provide a wide range of website design services that are affordable and customised to your business needs. Graphix Studio is Leading website development company in lucknow since 2003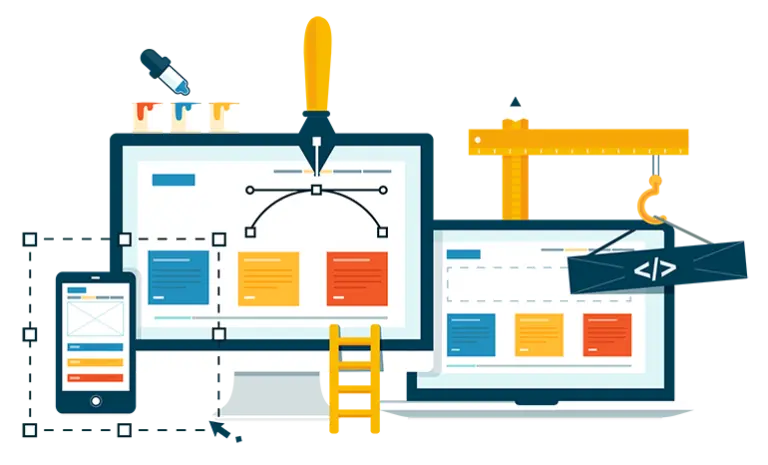 Explore Graphix Studio to find the ideal website design plan that fits your needs and budget. We are sure that we have the best deal with for you given our wide selection of web design services. To find out more about the many ways we can improve your online presence, get in touch with us now for a free a quote.
Get an effective website for your business
Contact Now For your Website Designing project
Our Website Development Portfolio
We have a wide range of website design projects to showcase our skills. Here are a few examples:
CMS-based Website Design solutions
Graphix Studio, your Best trusted partner for CMS-based website design solutions in Lucknow. We specialize in creating unique and SEO-friendly websites using a variety of content management systems (CMS), including WordPress, Joomla, Magento, and Drupal. If you're ready to elevate your online presence with a CMS-based website, whether it's on WordPress, Joomla, Magento, or Drupal, contact Graphix Studio today. Our team of experts is excited to discuss your requirements and create a visually appealing, user-friendly, and SEO-optimized website that drives your business success
WordPress
As one of the most popular CMS platforms, WordPress offers a user-friendly interface and a vast range of themes and plugins. Our expert designers and developers can leverage the power of WordPress to create a visually stunning and fully functional website that aligns with your brand and business goals

Magento
If you're in the e-commerce industry, Magento is a powerful CMS option that caters specifically to online stores. We have extensive experience in creating Magento-based websites that deliver exceptional user experiences, robust product catalog management, secure payment gateways, and effective sales tracking
Joomla
With its robust features and flexibility, Joomla is an ideal choice for businesses seeking a scalable and secure CMS platform. Our team at Graphix Studio can harness the potential of Joomla to develop a dynamic website that allows easy content management, seamless navigation, and optimal performance
Drupal
Known for its scalability and advanced customization capabilities, Drupal is a versatile CMS that suits businesses with complex website requirements. Our skilled designers and developers can utilize Drupal's extensive functionality to build a unique and feature-rich website that meets your specific needs
The technology we use to design websites